Land Rover oil change in Dubai, UAE
At Rapido Garage, we understand the importance of regular maintenance for your Land Rover, and our specialized Range Rover, Land Rover oil change services are designed to provide the highest level of care for your luxury SUV. With a team of experienced technicians and a commitment to quality service, we take pride in ensuring your Land Rover receives the attention it deserves.
What is included in the Rapido Garage:
Why Choose Rapido Garage for Your Land Rover Oil Change?
Preventative Maintenance, Diagnostic Services and Auto Repairs in Dubai, UAE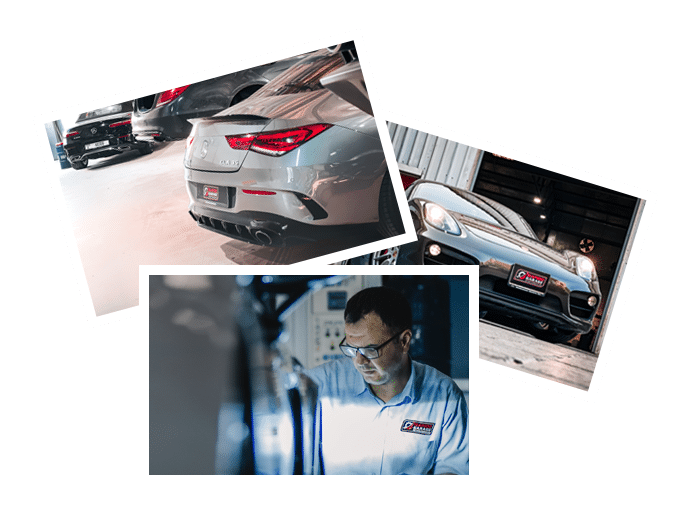 Expert Technicians: Our skilled mechanics have extensive experience working with Land Rover vehicles, ensuring that every oil change is performed with precision and expertise.

Manufacturer-Recommended Oils: We use only the highest quality, manufacturer-recommended oils for your Land Rover, ensuring optimal engine performance and longevity.

Advanced Tools and Equipment: Our state-of-the-art facility is equipped with advanced tools and equipment to facilitate a seamless and efficient oil change process.

Thorough Inspection: Along with the oil change, our technicians conduct a comprehensive inspection of your Land Rover, identifying any potential issues that require attention.

Personalized Service: At Rapido Garage, we understand that each Land Rover is unique. Our technicians provide personalized service tailored to your vehicle's specific needs.

Competitive Pricing: We offer competitive pricing for our Land Rover oil change services, ensuring that you receive exceptional value for your investment.
Contact phone: +971-4-385-7779
Email: service@rapidogarage.com
Mon – Sat: 7:30 AM – 5:30 PM
Sat – Sun: 9:00 AM – 4:00 PM
Al Qouz Industrial Area 3, Near Al Qouz Mall, Dubai, UAE
Looking For a Place you can Trust to Keep your Vehicles Rolling. Book a Service
Regular oil changes are crucial to maintaining the health and performance of your Land Rover. Clean oil lubricates the engine's components, reduces friction, and helps dissipate heat. Over time, oil can become contaminated with dirt, debris, and impurities, which can lead to decreased performance and potential engine damage. By scheduling routine oil changes at Rapido Garage, you're safeguarding your Land Rover's engine and ensuring it continues to deliver a smooth and powerful driving experience.
Experience the difference of professional Land Rover oil change services at Rapido Garage. Our team is dedicated to exceeding your expectations and keeping your luxury SUV in pristine condition. Contact us today to schedule your next oil change or to learn more about our comprehensive range of automotive services. Your Land Rover deserves nothing less than the best – choose Rapido Garage for unparalleled quality and care.