The Huracan EVO is the evolution of the most successful V10-powered Lamborghini so far. The Huracan EVO has a more aggressive design language with a powerful engine shared with the performanté that generates 640ps at 8000 rpm and 601N.m of torque at 6500 rpm. The exhaust system is more refined and has titanium intake valves. This allows the car to achieve a 0-60mph acceleration time of 2.9 seconds. The Huracan Evo has a rear-wheel steering system for improved handling and torque vectoring system. It also replaced magnetorheological suspension and now uses electromagnetic current to adjust the suspension system in accordance with various driving modes.
The work Rapido Garage got with the Huracan was to replace damaged axle with the new one. Things that can break your vehicle's axle include poor maintenance hitting curbs, potholes, or bumps too hard and overloading your vehicle beyond its weight-bearing capacity. As a top rated Italian car repair specialist in Dubai, it was a pleasure for Rapido Garage to get the work done.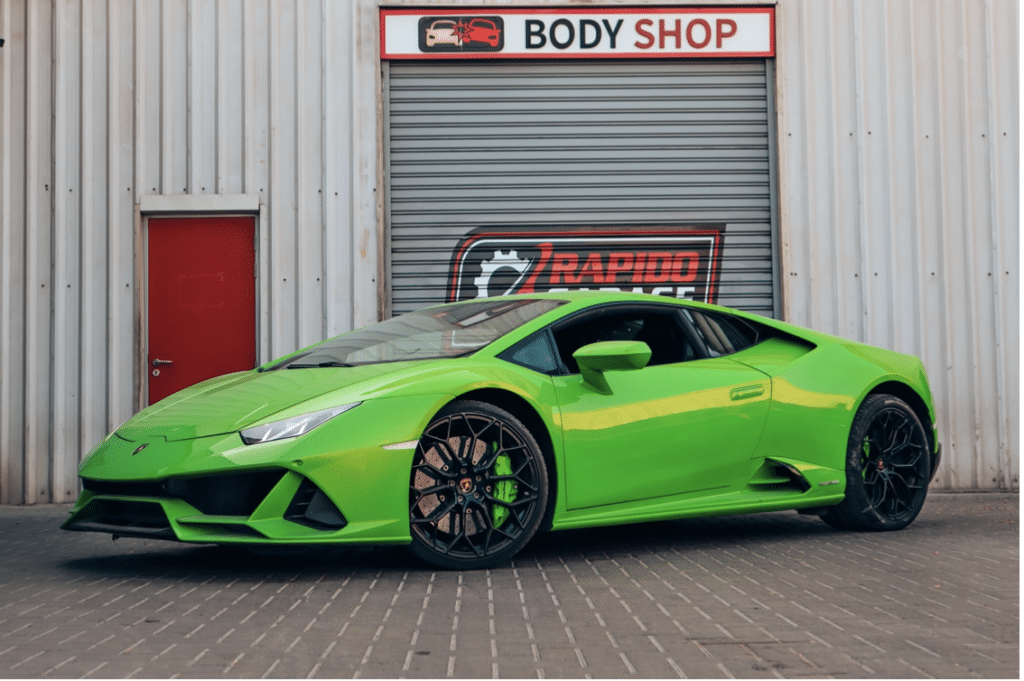 The services we provide for all Italian cars are mentioned below :
Lamborghini maintenance
Engine repair
Car transmission repair
Car AC repair
Brake repair
Lamborghini car suspension repair
Convertible roof repair
Body work services
Here the rear left axle of Lamborghini got damaged and we had gone through the following steps below to get it replaced.
The steps to replace CV axle of Lamborghini Huracan EVO
Step 1 :
It starts by disconnecting the battery , jacking up the vehicle and removing the retaining bolts and wheel from the vehicle.
Step 2:
Here suspension disassembly was not required. It's good to move the brake lines and other obstacles out of the way before the work begins.
Step 3:
Removing and replacing the CV axle. Always use the proper torque on the axle bolts. Check axle rotation. Reassemble dismantled components.